California Map & Atlas Guide
Any Historical California Map can indicate who owned specific property in the state and which towns held the county seat at the time.  This information is a valuable starting point for your research pointing you to the right location of records.
Solving Research Problems with a California Maps
 – If you have started your family research, you might have experienced trouble with trying to identify California city borders and names that have changed over the course of time. This can make it difficult to understand where your ancestors' information is kept.
Because California historic maps were usually commissioned by the county seat, they often display information about the county, including town names.
Reading a California map from the time period you are researching can help tremendously in solving these problems by leading you to the correct town records. It can also give you other leads, such as the location of city directories or old post offices in California.
Choosing the Best California Map – If you have a large source of maps to choose from, try starting with the area where your ancestors resided and looking for the maps with the most detail.
You can determine a lot by seeing if the area was still rural or more developed, and how far it was to the nearest city.  This can shed light on your family's lifestyle and occupation.
Were they farmers who lived in the country, or merchants who traveled often to a nearby city?  A map can give you an idea of what occupations were possible.
California Map of County Formations For The Years 1850-1925
These California maps shows the historical changes to California counties from 1850 to 1925.
California Maps & Atlases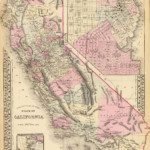 The David Rumsey Historical California Map Collection is scanned from original copies so you can see California as our ancestors saw them over a hundred years ago.
Some California map years (not all) have cities, railroads, P.O. locations, township outlines and other features useful to the California researcher.
External Links for California Maps