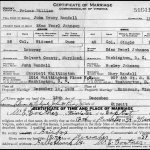 Such a long-standing early English colony and one of the original U.S. states, you would think all vital records would be available.  Unfortunately, they are not because such early information just wasn't officially recorded all the time. There was no state law requiring vital documents, births-marriage-deaths, to be recorded until 1912.  To help make available online those records that do exist the Virginia Department of Health and Ancestry.com have combined to present birth and death records from 1912 to 2014, divorce records from 1918 to 2014, and marriage records from 1936 to 2014, with some select marriage documents dating back to the 1780s.  As far as Virginia marriage records for 1912-1936 those should be added at a later date. There are birth records released include delayed births going back to 1864, but recorded after 1912.
The Virginia Department of Health site  does have its own site with the information and application for those wanting to order vital records.
Using the fee-based Ancestry.com will offer millions of records.  With the marriages covering 1936 to 2014 there are over 9 million.  Birth records from 1864 to 2014 are over 8 million.  If you do not have the Ancestry.com subscription, many of the public libraries or genealogical societies carry this database.  Not all the documents are scanned images of the original document, but rather an index with the information on a record.  For a marriage the bride and groomer's full names, date of birth, date and location of the marriage, status (single, divorced or widowed) and the parent's full names would be listed on the index.  The ones with a scanned image can be enlarged and saved to your computer.
Also check FamilySearch.org site for many of the earlier records.  They have 16 different categories covering Virginia, including births 1853-1917, marriages 1785-1940 and deaths from 1853-1912.  If looking for more recent dates for births and deaths in Virginia, the Ancestry.com will have those.
When researching especially marriage records, try a female's maiden name, the male's surname and vary the spelling selections.  There might have been numerous ways a name was spelled years ago.
With this newest additional of Virginia vital records made available online, you have a greater chance of finding any ancestors from that state.
Images:  1895 Index of a marriage for Julius Wilson and Ella Bell and the 1939 scanned image of the marriage of John Randall and Edna Johnson.